CES 2021 heats up, when the blue team has just shown off with the latest line of processors 11th generation Intel Core Desktop, Rocket Lakes-S, including the next new hardware ready to meet on desktops and laptops.
Also read: Lenovo Announces the Latest Premium Series of Yoga Slim 7i Pro Laptops
Intel seems ready to provide the best choice for fans, although not all of their hardware options are revealed. But, one of their next best desktop options Core i9-11900K awaits.
Intel Core i9-11900K Preview
But most importantly here the manufacturer is unveiling a new processor to meet the needs of different user variants. First is a little preview of the 11th generation "Rocket Lake" desktop processor. Overall Intel promises up to 19% increase in instructions per cycle (IPC) and is ready to provide the highest core frequency.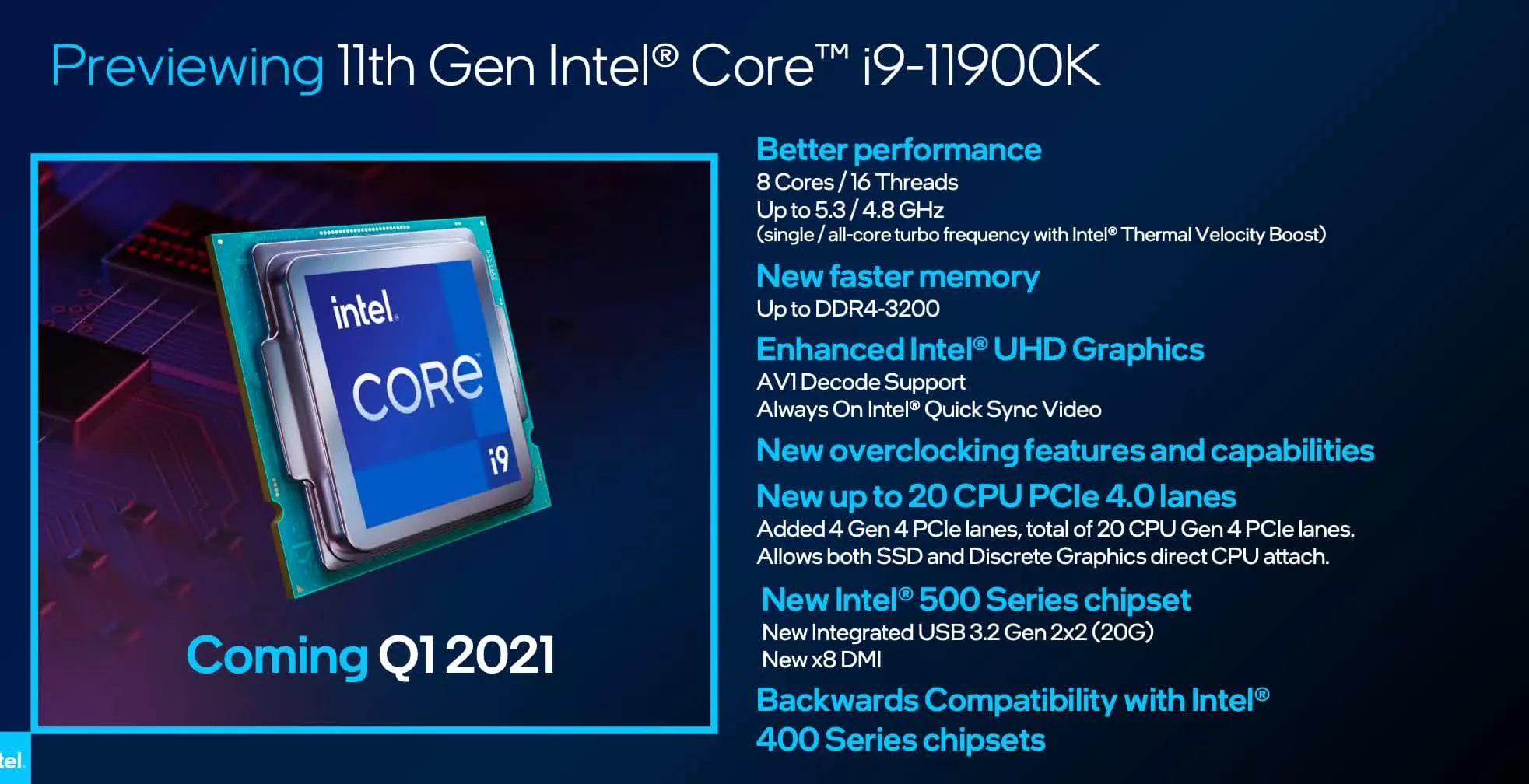 One of them that can be tempting and become the main sample is the Intel Core i9-11900K, where this processor will bring even better performance to gamers and PC fans when it is launched in the first quarter of 2021.
The manufacturer hasn't provided detailed information on the foundation of this processor, but it will come with 8 cores and 16 threads of power – a drop down of 10 cores. Clockspeed increases even higher up to 5.3 GHz single-core and 4.8 GHz all-core turbo. Intel confirmed a new PCIe configuration, with support for PCIe 4.0 and 20 lanes directly from the CPU.
But why does the number of cores have to go down? According to techspot, generally, when companies come up with new architectures that create larger CPU cores, they counter the increased power requirements by switching to smaller process nodes. In many cases, the smaller the number of cores can be more efficient (or at least keep the CPU from being power hungry).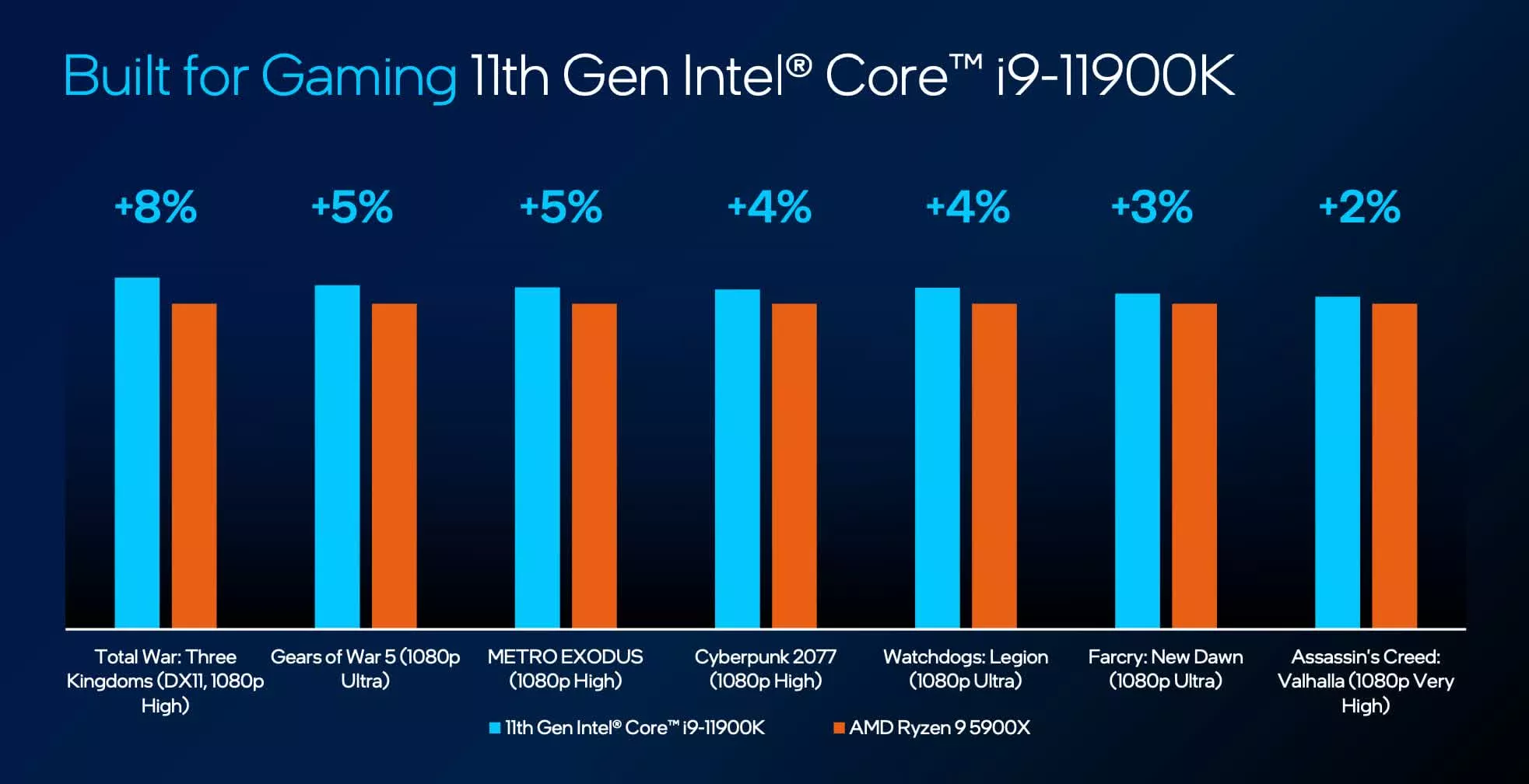 On the other hand, Techspot itself says that the Core i9-11900K drop in core count is a sign that Intel is basically giving up on competing at the top of the market for productivity (for now), at least for multi-threaded workloads.
The main focus on Rocket Lake is gaming. Intel even has some performance figures of their own, with the 11900K being between 2 and 8 percent faster than the Ryzen 9 5900X at 1080p games at high to ultra high settings. According to the appendix, this test was conducted with a GeForce RTX 3080 and 32GB DDR4-3200 memory in a 4 × 8GB configuration.
New Intel Z590 Chipset
Along with the 11th generation processors, Intel is also announcing the 500 series chipsets, although Rocket Lake is still compatible with Intel 400 series motherboards. Intel hasn't shared much information on these motherboards and chipsets, but motherboard markers are expected to announce 500 series boards this week.
The two new features listed in the mobo integration with this chipset are USB 3.2 Gen 2 × 2 support, and the new DMI x8, up from the x4 with the previous design. This increase in DMI is quite important, allowing the presence of peripherals and storage connectivity through a wider connection to the CPU.
As more PCIe 4.0 devices and SSDs become available, and many of these parts will plug into chipsets, providing more bandwidth through the CPU is key to maintaining high levels of performance.
Intel Tiger Lake H35 & Latest Mobile series Processors
Intel also brings other big announcements for the mobile segment, starting from the latest Celeron and Pentium processors which are more specifically for casual users which they call the Intel® Pentium® Silver and Celeron® N Series processors.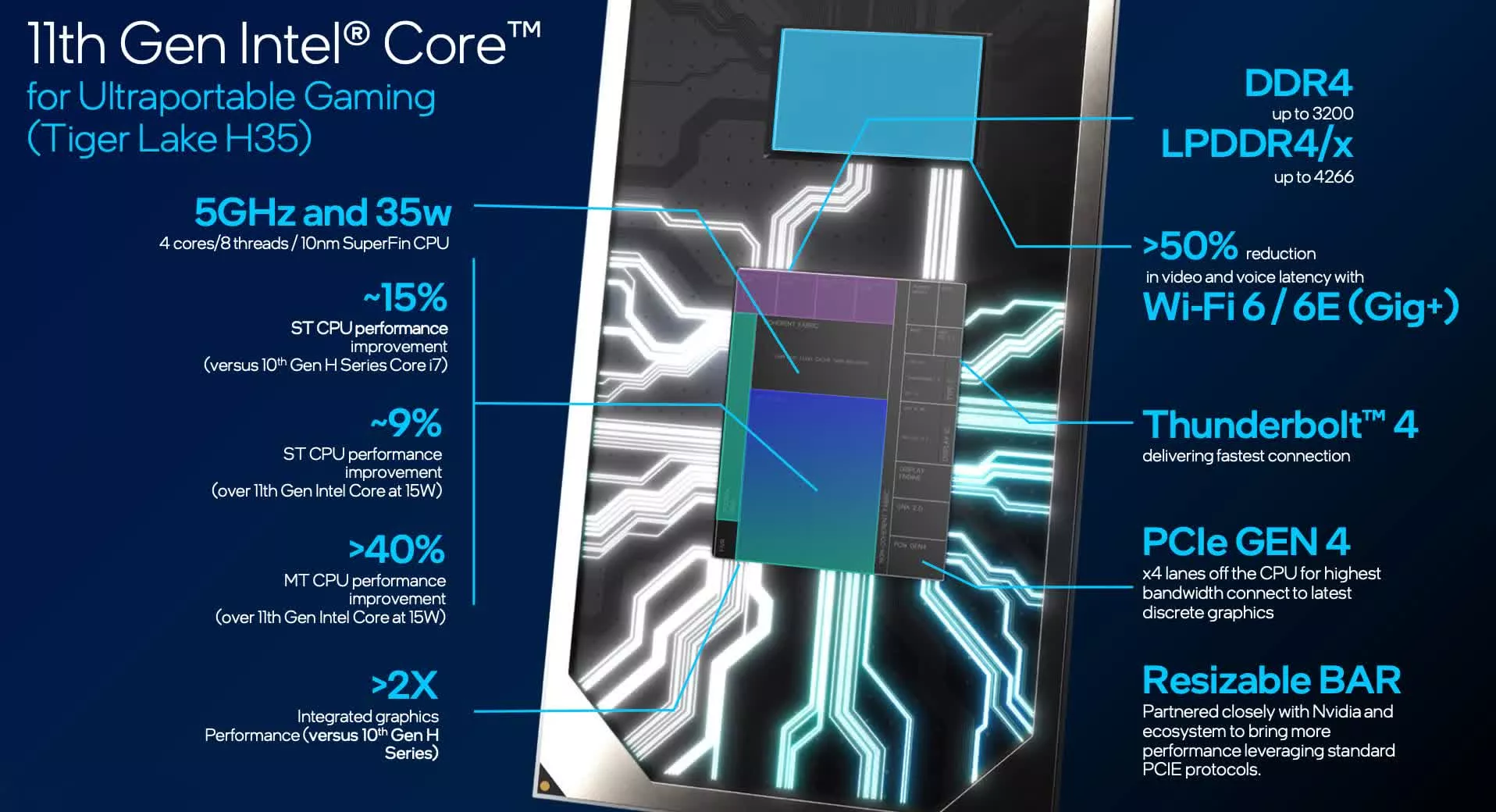 This processor, designed on Intel's 10nm architecture, is claimed to deliver up to 35% 11 better overall application performance and up to 78% better gen graphics performance. This enables smooth browsing and application performance while multitasking, plus an advanced camera and connectivity features for an enriched video conferencing and viewing experience.
On the other hand, exciting choices come with the presence of the 11th Generation Mobile Intel® Core ™ H series processors which can be ideal for gaming platforms. Led by a 4-core Intel® Core ™ i7 Special Edition processor with speeds up to 5 gigahertz (GHz) Turbo, this H35 processor is specifically targeted for ultraportable gaming.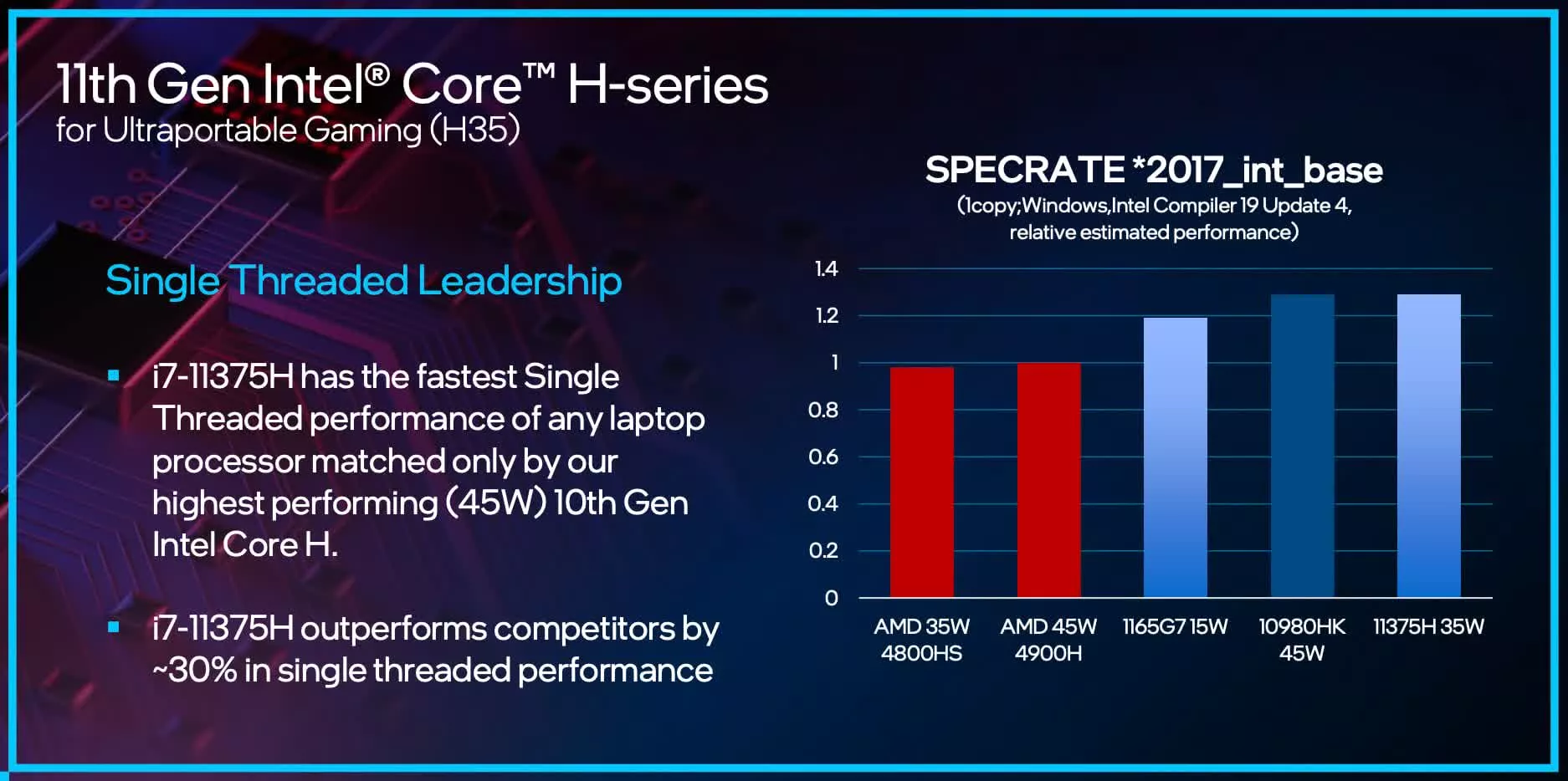 They feature a new PCIE Gen 4 architecture to connect to the latest discrete graphics and deliver incredibly low latency and immersive gaming on the go. At CES, Acer, ASUS, MSI and Vaio announced new systems powered by the 11th Generation Intel Core H35 series processors for ultraportable gaming, with more than 40 designs from top manufacturing partners launched in the first half of 2021.
For mobile enthusiasts who want desktop-caliber gaming performance and creation, Intel also announced 8-core processors that will begin shipping later this quarter. The platform is unique in the industry with features typically found in high-end desktop systems – including up to 5GHz, 20-lane PCIe Gen 4.0 architecture for the fastest storage and discrete graphics, and Intel® Killer ™ Wi-fi 6E (Gig +).
Also Read: